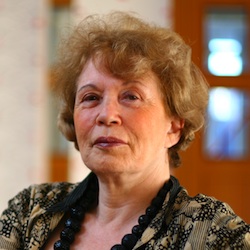 I have come to social work mainly due to autobiographical reasons; my mother had postnatal depression which I have experienced as the first child when my brothers were born. When she was well, she supported a number of women with similar experiences, and I was used from a young age to their presence in our home.
I work now as a researcher on issues which relate to mental health and social work. I see this work as complementary to being a social work practitioner.
Let me give you two examples:
Until mid January 2013, I have been the principal investigator of the EU funded project Empower Women and Providers: Domestic Violence and Mental Health for two years. This project, managed by Caroline Meffan also from our department, includes five sites in the EU, and in each we worked with both academic institutions and practice agency (e.g. the Welwyn and Hatfield women's refuge in the UK). We focused providing training programmes on:
Enhancing self esteem and well being of women who experienced both domestic violence and mental ill health.
Improving the knowledge, skills and attitudes of mental health providers re women with these experiences
Enabling some women with this dual experience to obtain the initial knowledge and skills to become co-facilitators of support groups for women.
Each training programme has also been evaluated thoroughly with a range of qualitative and quantitative methods.
The results are largely positive, and women participants have highlighted how helpful it was for them to be in the programmes in terms of accepting that they are not to be blamed for being violated, as well as enhancing their self esteem and beginning to consider plans for the future. The project has demonstrated the value of small group work as therapeutic, preventive, and promoting recovery and strength of the clients. All of these are closely related to basic social work values, aims, knowledge and skills.
Two of the sites have immediate plans to continue with similar initiatives, but the UK is not one of them, despite the enthusiasm of the local people, who included a service user trainer too. This is said to be due to lack of time, but I would argue that continuing to work as usual – i.e. focusing only on crisis work, only on the individual, only on problems – is short sighted and not the best use of social work input.
The second example relates to a UK only project funded by the NIHR(the National Institute of Health Research), titled Shared Decision Making in Psychiatric Medication Management, which I both manage and am the principal investigator of in Cambridgeshire.
This project was a co-production with service users, mental health professionals and researchers from its inception, and continues to include service users as co-trainers with psychiatrists, as members of the project management team, and of all of its other working groups, and as co-presenters at conferences
We have developed three parallel training programmes on shared decision making in this central area of mental health for service users, care-co-ordinators and psychiatrists. We have also developed three decision making tools which facilitate the process of shared decision making, and continue to work on embedding this radical innovation in everyday practice of the trust. As part of the embedding work, I have observed four medication review meetings this week with a consultant psychiatrist and service users who gave me permission to be present (two did not; I felt bad about this rejection, but could understand it and had to accept it..). All of the service users brought to the meetings psychosocial issues unrelated to medication, such as the very realistic fear of being evicted due to the changes to housing benefits regulations as from April 1st 2013,  high level of isolation, or the impact of participation in an anti EDL (English Defence League) that took place last week in Cambridge by a very depressed service user.
None of them has a social worker, though these are clearly social work issues.
It is encouraging that the NHS has funded this study, and that there is support for it in the trust. As you can imagine, not every professional supports the move to shared decision making, which challenges many of the taken for granted assumptions about lack of ability to reach rational decisions by people who have experienced serious mental ill health. Not every service user is ready to take the risk of starting to think for themselves after years of passivity.
I would like to see my social work colleagues at the trust at the forefront of this work, but am aware that this is not the case.
We are giving presentations about both projects, and also publish our work; in my view the dissemination work is as important as carrying out the projects.
For me, doing this type of research enables me to contribute to the innovative element of social work and of mental health, which has been an important motivating factor in my professional life.
I also research the impact of political conflict on social work clients and workers, but this will be a topic of another article…
Professor Shula Ramon at the University of Hertfordshire (@UoH_HealthandSW).  Join us @SWSCmedia for a live World Social Work Day Twitter Chat on Tuesday (19 March 2013) 8:00 PM GMT / 4:00 PM DST. Hashtag #SWSCmedia