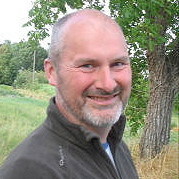 I am not a social worker. But I am a big fan. I have spent over 20 years working alongside social workers, particularly in order to improve the lives of people with learning difficulties and their families.
In the UK in the early 1990s much of social work (but not all) was swept up in the system called 'care management'. One of the standard criticisms of care management was that it turned social workers from creative agents of community change into people whose main job was just to set up service 'packages'.
As one of my friends (who is a social worker) put it:
Our role changed from finding creative solution to just buying services. Or, even more commonly, simply referring people into block contracted services. Technically, assessments were needs-led, in reality those needs were mostly defined in terms of (existing) services.
These changes – the shift from social work to care management – were introduced with no significant support from within the social work profession. The very same process has played out with 'personalisation'. Innovations that seemed, originally, to promise to return social work to its core values and practices are now in danger of being corrupted and misused.
None of this is the fault of individual social workers. But the situation is creating tough choices for social workers. It raises important questions about the nature of professional integrity. When should we comply with things which we know are unfair, dangerous and unprofessional? When and how can we resist injustice?
1. Personal budgets
When teaching social workers about personal budgets I often ask:
Whose money is this? Does it belong to the government or to the citizen?
Currently social workers tend to answer (by a ratio of 2:1) that it is government money. But, if this is our perspective, then we will struggle to ensure that personal budgets work well. We are very likely to slip back into thinking:
We really know best how other people should live
We shouldn't let people spend their money flexibly
We must know how people do spend their money
Instead, social workers need to think in terms of human rights and basic entitlements. They need to ensure that their interactions safeguard active citizenship, not slip into controlling people.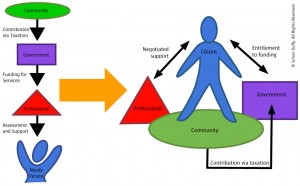 2. Citizenship
I worry that some student social workers seem to lack what I would consider to be basic knowledge about how to help people get the support they need to be full and active citizens. There is too much reliance on existing services, especially residential care. It is not the preferred provider lists or regulated care services that will guarantee quality – quite the opposite.
Social workers need to be masters of the art of individual service design. They need to understand all that the community has to offer and how to help people to exercise their rights. They need knowledge of
Community resources
Innovative support solution
Equipment
Housing options
Community services
Funding routes and much more
Social workers do not need to know these things on their own. They need to be partners with disabled people, families, service providers and community leaders. But, they must be at the heart of facilitating good solutions, spotting innovations and connecting people to the right sources of expertise.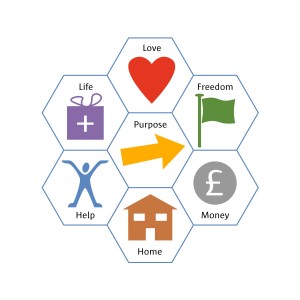 3. Poverty
The benefit system is so complex that it is not surprising that knowledge of benefits is increasingly rare. This may also help explain why £17 billion of benefits go unclaimed. But this is a significant problem if you are working with people who are frequently in poverty and are often fighting growing debt.
A basic understanding of benefit entitlements and the means to get the best possible advice should be one of the fundamental pieces of background knowledge for social workers. This is especially true today when the government's £22 billion cut to welfare benefits will have a devastating impact on the lives of disabled people and many others.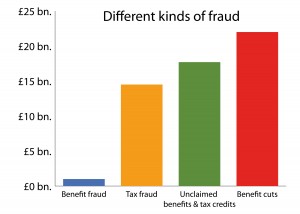 4. Relationships
In the UK social workers play a critical role in making assessments of need. Although social care legislation, and the regulations called Fair Access to Care Services, are certainly imperfect they still offer the most important legal protection available for all disabled people. Yet, we know from contacts within staff in local authorities, that increasing pressure is being to brought to 'reassess' people in order to reduce eligibility and entitlement – despite no change in need.
An assessment is not the completion of a form. It is a holistic, human and shared understanding – developed over time. The profession must challenge the growth of assessment questionnaires, the complex RAS, support planning and other mindless bureaucracy.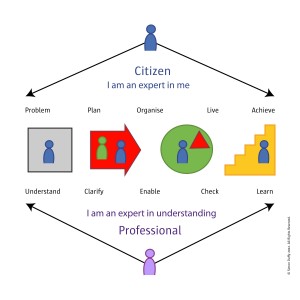 5. Community
One of the most important approaches to bring about social change is to help people help themselves. This is a particularly powerful strategy when it is focused on peer support groups. Emerging self-help groups like the Personalisation Forum Group demonstrate the power of people helping each other – to both challenge the system and to build practical alternatives.
Social workers have often been the key to make this happen. By using skills in facilitation and exercising strong personal integrity they can open the door to powerful social change. But this requires social workers to find a new role in the lives of communities.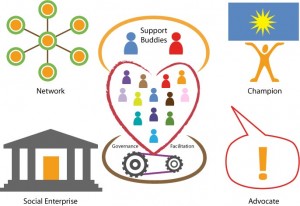 6. Cuts
The UK government has focused most of its cuts on public spending in just two areas (a) benefits and (b) local government – 60% of which is on social care. Never before have we seen such a direct assault on the basic fabric of the welfare state. As it stands:
People in poverty (1 in 5 of us) bear 39% of all the cuts
Disabled people (1 in 13 of us) bear 29% of all the cuts
People with severe disabilities (1 in 50 of us) bear 15% of all the cuts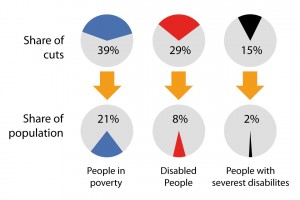 There are many important social work and social care organisations:
SCIE
ADASS
ADCS
LGA
BASW
College of Social Work
Have these organisations led the way in defending social care, social work practice and the interests of those in greatest need?
7. Welfare State
The UK is the third most unequal developed country in the world (after the USA and Portugal) and the growth rate of inequality in this country is now higher than that in the USA. The welfare system is stigmatising and damaging and requires significant reform. Not the kind of reform currently underway – which are simply cuts dressed up as reforms.
Social workers need to be at the heart of rethinking the welfare state – not just fulfilling the role given to them by government – but challenging, questioning and reinventing the welfare state – for the 21st Century.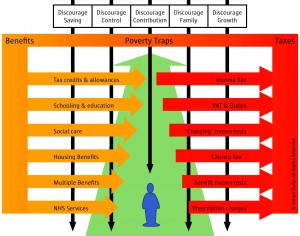 Conclusion
Social work is a valuable profession. And it has always had a difficult role to play – to fulfil the various roles required by the state whilst trying to protect the disadvantaged and challenge the powerful. Individual practitioners – when working alone – can feel vulnerable and this can make resistance difficult
I do not want to predict the course that the profession will take, but I suggest that unless we see some of the following strategies then the profession will struggle to maintain its integrity in the coming years:
Lead the way in supporting the rights of all disabled people and families to take control of their own lives with reasonable entitlements.
Focus on helping people live lives of citizenship, challenging institutional services and helping people stay strong and active members of their communities.
Stay in touch with people's rights and work to fight debt, poverty and injustice.
Resist pressure to make inappropriate assessments or to set budgets too low for human dignity.
Facilitate community change, work in community to help people solve their own problems and demand social change.
Organise the profession to challenge, campaign and advocate on behalf of social justice – connecting to other groups and campaigns.
Innovate and rethink the role of welfare in people's lives – help create more empowering and dignified models.
I know that there are plenty of social workers out there trying to do all of this. But we need to work together to make this the norm, not the exception. The Centre for Welfare Reform has committed itself to work with any social workers who want to try and support the profession's integrity at the key moment.
I would particularly encourage you to join the Campaign for a Fair Society and subscribe to The Centre for Welfare Reform.
Further Reading
If you are interested in finding out more about these ideas then there are many things you could read. Here are just seven – matching the themes I've set out:
Travelling Hopefully – latest thoughts on personalisation
Keys to Citizenship – a guide to designing individual services
A Fair Income – thoughts on reforming the benefit system
An Apology – thoughts on assessment and the RAS
Peer Power – an example of excellent independent social work in practice
A Fair Society? how the cuts target disabled people – analysis of the cuts
Manifesto for a Fair Society – ideas for a reformed welfare state
Dr. SImon J. Duffy (@simonjduffy) is the Director of The Centre for Welfare Reform.
Join us @U4Change for a live Twitter debate on "Personalisation and the Cuts & Welfare Reform" in a cross-chat with @SWSCmedia on Tuesday (2 April 2013) 8:00 PM BST / 3:00 PM DST. using the Hashtag #U4Change and #SWSCmedia.