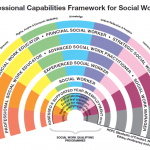 The beginning of a Social Worker's career can be challenging and initial experiences can be pivotal. As we all may know, the social work profession is changing with the new registration requirements through the Health and Care Professions council (HCPC), the initiation of the College of Social Work and the Professional Capabilities Framework (PCF). To ensure the best start for Newly Qualified Social Workers (NQSWs) and to maximise the investment, a quality programme is essential.
The Assessed and Supported Year in Employment (ASYE) is a one year pass or fail programme that will be tied to Organisational probation. This can be daunting for newly qualified practitioners but never fear this is not a new concept. The scheme is referred to as ASYE but the individuals undertaking the program are called Newly Qualified Social Workers (NQSWs). We all may know colleagues in our allied professions, such as Nurses, who complete a year called a 'preceptorship' which is a period to guide and support all newly qualified practitioners to make the transition from student to develop their practice further. We are not alone.
As such, the ASYE is designed to help NQSWs develop their skills, knowledge and capability and strengthen their professional confidence in the field. It has come out of the recommendations of the Social Work Reform Board and replaces previous NQSW programmes for the consistent assessment and support of Social Workers new to the profession. It is a structured transition phase that allows newly registered Social Workers to develop their confidence and apply their knowledge from academic studies and placements.
The Social Work Reform Board recommended that the ASYE Should:
Be employer led;
Give employers responsibility for making accurate, valid and robust assessment decisions – deciding whether an individual would pass or fail;
Offer defined support to NQSWs in their first year;
Be assessed against the PCF.
This means that there will be variations across Organisations on the ASYE but the main components are simple- You will be assessed, You will be given a pass or fail, and You will receive support. Employers would then need to work across their own Organisations and in partnership with other Organisations, from the start of the year, to inform their judgements and processes. The assessment would be completed by a qualified and registered Social Worker. The support offered will also vary but will include:
Structured induction
Details of the frequency of reflective supervision
Critical Reflection Practice Learning Sets
A managed or manageable workload
A personal development plan to support your learning-in-practice progression over the course of the year
Time allocation for personal development
Having expert support, with protected time gives a foundation for lifelong learning and allows NQSWs to provide effective positive outcomes for the people they work with.
A current cohort of NQSWs have shared their tips for a successful ASYE
Chill Out;
Enjoy the first few weeks and Induction;
Don't Panic;
Remember that you don't know everything but you know a lot more than you think;
Be realistic;
Give yourself the confidence because you can do this;
Ask for help;
Don't get caught up in all the work; remember the things that you enjoy about Social Work;
Don't beat yourself up if you need more time or need help;
You are not alone; remember to use the strengths within your team.
Fenix Cornejo is a practice educator and a frontline statutory social work practitioner.